Custom Jeep Wrangler Special

Good news has arrived once again! At Collierville Chrysler Dodge Jeep, shoppers can take advantage of the Custom Jeep Wrangler Special. Here, you will be able to get a look at all of our custom Jeep Wrangler models and pick which one fits your wants and needs the best. Each custom Jeep Wrangler is available at our Memphis area dealership, giving you plenty of options to choose from.
While each custom ride is special in its own way, they also share a number of features that are sure to be loved. Most vehicle's available offer the following adds:
2- to 3.5-inch lift kit including Steering Damper
35″ Mastercraft tires
18″ Black Rhino Wheels with Lug nuts
Spare Wheel with spacer
Save Big With Our Memphis Area Custom Jeep Wrangler Specials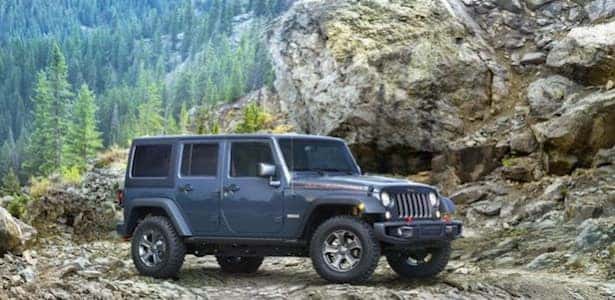 So, what's the sale all about? Well, you will be able to receive $4,500 off all custom Jeep Wrangler models. It might be hard to believe, but each custom Jeep Wrangler has a lot more to offer. Take a look at each and pick out which one you love. Our Memphis area dealership is proud to offer such strong vehicles, contributing to the special Jeep lifestyle. No matter what walk of life you come from, when you buy a Jeep, you become part of a family. Jeep gives you the ability to be themselves and express themselves through customization.
To learn more about how you can get behind the wheel of a custom Jeep Wrangler, be sure to contact Collierville Chrysler Dodge Jeep RAM and call (901) 854-5337. We can even help you find a place to take your Jeep off-roading in Tennessee.