2018 Jeep Grand Cherokee TrackHawk Named #1 Most Powerful SUV In America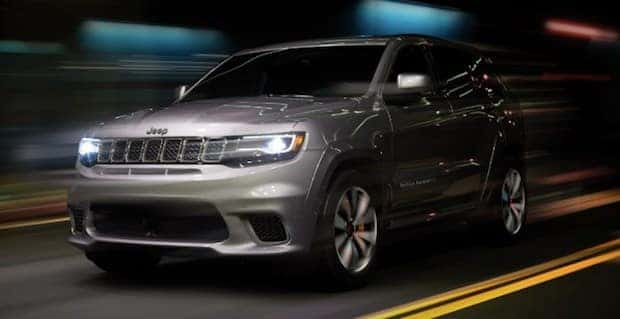 With a 6.2-liter Hemi V8 engine, the 2018 Jeep Grand Cherokee Trackhawk boasts 707 horsepower and 645 lb.-ft. of Torque to keep Memphis drivers feeling supercharged! Are we even surprised that the Cherokee topped the list for the most powerful SUVs? Next in line is the 2018 Mercedes-AMG G65, which only puts out 621 horsepower! That's nearly 100 horsepower less than the Trackhawk! It's like the other guys aren't even trying.
Why is the Trackhawk so special?
Hitting 60 mph in 3.5 seconds, the Trackhawk is an SUV that can give a race-car a run for its money in a straight away. This SUV weighs 5,300 pounds. Maxing out at 180 mph, the Trackhawk is not just powerful, it's faster than you could ever imagine. It's as if Jeep figured out a way to defy science with this model! How can it possibly weigh so much and move so fast?! If you're in the market for a strong and speedy SUV, see why you should shop at Collierville; just like the Trackhawk, we're not here to waste your time.
If you want more information on the 2018 Jeep Grand Cherokee Trackhawk, take a peek at our 2018 Trackhawk preview; it's got all you need to know (from detailed specifications to unique features and customizable options).
What About my Wallet?
Considering the Trackhawk tops the list as America's most powerful SUV, you're probably thinking, "Great. It's really going to cost me." Guess what? It's the least expensive car on the list! With the 2018 Trackhawk you get the best bang for your buck! Talk about a win-win!
If you have more questions about the 2018 Jeep Grand Cherokee Trackhawk, want to know what Jeep accessories are available, or would like to schedule a test drive, contact our Jeep dealership near Memphis at (877) 403-1964.