How to Take the Doors off Your Jeep Wrangler: A Step-by-Step Guide

If you're looking for an SUV that transforms your everyday drive around Memphis into an adventure, then you already know the Jeep Wrangler is right for you. It offers superior off-road capability, but that's not the only feature that makes it so popular. The Wrangler's removable doors also help to make this model one of the most unique SUVs on the road! Because this feature is so unique, many of our customers want to know how to take the doors off of a Jeep. Learn about Jeep door removal with the team at Collierville Chrysler Dodge Jeep Ram by following this simple guide!
How To Remove the Doors on a Jeep
The first order of business in taking off your Jeep doors is to roll down your windows. The main purpose is to prevent any potential damage when storing your doors. Next, follow these steps in order:
Disconnect any cables by removing the footwell under your dashboard or by the b-pillar. Be sure to unclip any connectors with care.
Take off your door straps by lifting them off their hooks.
Remove the door hinge bolt and gently slide the door off and away.
Enjoy your open-air drive around Collierville!
Make sure you store the doors in a safe and dry place to ensure they do not get damaged. Also, adding lubricant to your hinges will help ensure easy removal every time you take the doors off your Wrangler.
Why Would I Take the Doors off my Wrangler?
A Jeep Wrangler's doors are removable for numerous reasons. No matter if you're driving on the roads around Oxford, MS or finding off-road trails near Olive Branch, MS, taking off your Jeep doors allows you to enjoy a truly immersive driving experience offered by few other SUVs! Those with a true affinity for the outdoors naturally gravitate to the rugged Wrangler, as it allows them to be truly connected to nature while on the road. Furthermore, off-road enthusiasts will note that removing Jeep Wrangler doors grants them better visibility when navigating treacherous terrain.
How to Take the Top Off a Jeep
Of course, the Jeep Wrangler is also known for having a removable roof! Whether your Jeep Wrangler is equipped with a hard or soft top, it is still removable! However, most Jeep experts will tell you that, if you owned a hard-top Wrangler, you're better off trusting one of our certified Jeep technicians at our service department to remove your top. This is mainly due to the unwieldy nature of the roof itself, as you do not want to risk permanent damage to your vehicle.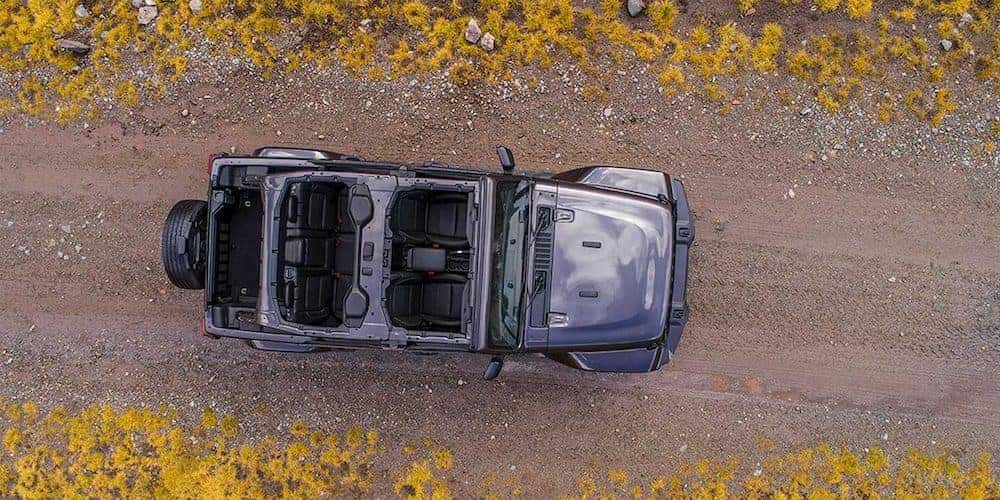 Let the Experts at Collierville Chrysler Dodge Jeep Ram Help!
Are you having problems taking off your Jeep Wrangler doors or roof? Our service team at Collierville Chrysler Dodge Jeep Ram is here to help with any challenges you face when working on your Wrangler. Schedule an appointment with a service technician today and we'll have the doors off your Jeep Wrangler before you know it. You'll be back on the road in no time! Whether you're taking off your doors or learning how much your Wrangler weighs, our experts are here to help. You can even learn how to stay on top of your Jeep Gladiator maintenance schedule. 
More from Collierville Chrysler Dodge Jeep Ram
The areas within and surrounding Memphis, TN, are known for all types of culinary comforts. On that list, perhaps no delicacy is more renown than barbeque. When it comes to finding the best BBQ near Memphis, TN, we've got you covered. In today's local spotlight, we'll be highlighting three delectable establishments right in the Memphis,…

Have you been dreaming of going on a thrilling excursion right here in the Collierville, TN, area?Thanks to today's Local Spotlight, your dreams just came true; but that doesn't mean you have to take your head out of the clouds just yet. In fact, the clouds are right where you'll be when you take a…

Saving & Improving Lives One Animal at a Time There's much to be said about the love and companionship a furry friend can bring to humans. As such, we strive to ensure this unconditional love is reciprocated.Unfortunately, however, not every animal receives this nurturing treatment. That's where the Humane Society of Memphis and Shelby County…